Sutton Hill residents mark final phase of £7m regeneration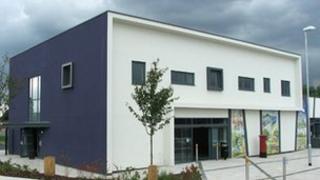 Work has started on the final phase of a £7m redevelopment in an area of Telford.
Last year, 32 properties were demolished as families were re-homed in new builds in Sutton Hill.
New shops, road links and parking have also been built in a scheme jointly funded by Telford and Wrekin Council and the Homes and Communities Agency.
The latest phase will see redundant shops demolished to make way for more housing.
The scheme was carried out after a consultation in 2008 when people said they wanted better shops and an improved local centre on the estate.
The new Sutton Hill centre was formally opened in October 2011.
Local politicians, including Telford's Labour MP David Wright, joined local residents at a ceremony to mark the final stage of the project.
Terry Branchflower, from Sutton Hill, was also presented with a certificate in recognition of his bravery in rescuing a neighbour from a house fire in March.