Hydro-electric scheme in Neen Sollars, Shropshire, raises £150k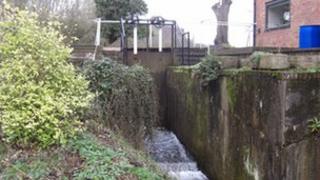 The first community hydro-electric scheme in Shropshire is expected to be up and running by the end of the year.
It will harness power from the River Rea at the Tetsill Mill site.
The co-operative, based in Neen Sollars, near Cleobury Mortimer, has raised the £150,000 it needed by selling shares to local people.
Neen Sollars Community Hydro Co-operative predicted the turbine will generate the equivalent of 20% of the power used by the village.
People have invested between £250 and £20,000.
Co-operative member Chris Diamond said: "We are also going to put any dividends we get from the scheme back into other environmental projects.
"After the project is finished after 20 years, we will use that capital again to fund another environmental scheme, so it will keep the pot going.
"We have a lot of resources in this county, and a few positions on the Rea that could be used, and I know other groups within the county are looking at hydro-power."
It is one of a number of renewable projects being planned in the county.