Flash flooding: Man killed in Shropshire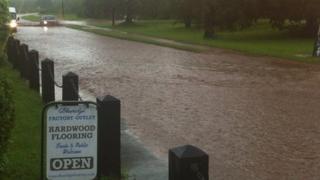 A man believed to be in his 60s has died during flash flooding in south Shropshire.
West Mercia Police said the man was swept away by flood water in Bitterley, near Ludlow, just after 10:30 BST.
Emergency services began a search and his body was found in a stream, about 150m away, at about 11:45 BST.
Shropshire Fire and Rescue Incident Commander Shaun Baker said crews were called to Bitterley after a farmer reported seeing a man swept away.
'Walk around water'
The man has yet to be identified, but his family have been informed, police said.
Mr Baker said the man had been unable to keep driving in his car due to the flood water and had tried to walk around it.
"But, unfortunately, the nature of the flood water is, you cannot see what is underfoot," he added.
Earlier six people, including a 90-year-old man, were rescued by firefighters after flash floods blocked roads in the county.
Bridgnorth, Cleobury and Ludlow were the worst affected areas, with water more than 2ft deep in places on the A454 near Bridgnorth.
The A464 was also blocked after heavy rain, which started at about 09:00 BST.
Water levels have subsided, although diversions remain in place on a number of roads.
Bitterley Primary School, near Ludlow, and Worfield Primary, near Bridgnorth, closed early at 13:00 BST.
Two of those rescued were pulled from cars after becoming stranded in floodwater on the A454 at Worfield, near The Wheel pub, West Mercia Police said.
They added that the police helicopter had used its thermal imaging camera to identify people stuck in cars.
Shropshire Council said its crews had worked to clear drains and culverts.
Bob Hickman, a guard on the Severn Valley Railway, said he had been stuck for more than an hour on the A454.
"It's totally unpassable. There's nothing you can do. Everyone is just sitting and waiting for it to subside," he said.
"I've never experienced a deluge like it before. Within about 10 minutes I came through from Wolverhampton [towards Bridgnorth] and it just got progressively worse."
Natalie Jenning, at the Horns of Boningale pub in Albrighton, said a "river" of water about a foot deep had flowed past the pub down the Holyhead Road towards Boningale.
One driver, Louise Hall, said she had been forced to stop on the A41 Newport Road outside Albrighton.
"There were two cars stuck in floodwater there. One's just been pulled out," she said.
"We stopped and turned a few cars around because there's no way you can get through."
'Everything we've got'
In Ludlow, Will Holland, a chef at La Becasse, said he had arrived at work to find the wine cellar flooded, although it would not close the restaurant.
Councillor Martin Taylor Smith, who lives in Ludlow, said the floods were the worst in the town since 2007.
The fire service said it experienced a large number of calls and urged people to only call 999 if there was a threat to life.
Guy Williams, from Shropshire Fire and Rescue, said both water rescue boats had been sent from Shrewsbury to south Shropshire.
"It was significant and it was serious and we pretty much threw everything we've got at it," he added.
He said about 50 staff had been involved, half of whom had specialist water rescue skills, including instructors from the service's Telford training base.
The Environment Agency issued an amber flood alert for the area and said it was monitoring the situation.