Mopping up continues after Shropshire flooding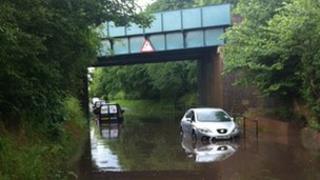 Mopping-up operations are continuing at homes and firms affected by flooding in Shropshire following heavy rain.
A man believed to be in his 60s died when he was swept away by flood water in Bitterley, near Ludlow, on Thursday.
A post-mortem examination was expected to be held on Friday.
Six people, including a man aged 90, were rescued on Thursday after flash floods blocked county roads. But on Friday Shropshire's fire service said "everything's calmed down".
It added that fire control was "very busy" in the night receiving calls from Tyne and Wear.
On Thursday people in Shropshire were stranded in cars, others were trapped in houses and animals were trapped, while flooding affected housing and electrics, the fire service added.
Crews were called to Bitterley after a farmer reported seeing a man swept away and a body was found in a stream at about 11:45 BST.
The man had been unable to keep driving in his car due to the flood water and had tried to walk around it, the fire service said.
Formal identification was expected to take place on either Monday or Tuesday, police said.
Bridgnorth, Cleobury and Ludlow were the worst affected areas, with water more than 2ft deep in places on the A454 near Bridgnorth.
The A464 was also blocked after heavy rain, which started at about 09:00 BST.