Saint John Vianney's heart at Shrewsbury Cathedral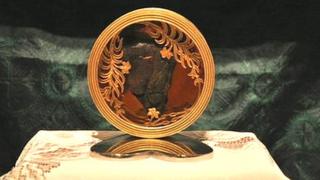 Pilgrims have gathered at Shrewsbury Cathedral to pray and view the encased heart of a 19th Century Roman Catholic priest.
The relic of the heart of St John Vianney, the patron saint of parish priests, is on a four-day UK visit.
A special mass is being held at the church followed by the veneration of the relic and confessions, the Diocese of Shrewsbury said.
Hundreds of people prayed before the relic in Liverpool on Friday.
The relic was at the city's Metropolitan Cathedral of Christ the King.
A spokesman for the diocese said: "He was such a holy man and people have been coming to pray before the relic and ask for help in their lives.
"They also want to feel close to holiness and to God".
St John Vianney is the only parish priest to be canonised in the Catholic Church.
Bishop of Shrewsbury, the Rt Rev Mark Davies, who requested the relic's visit from its home in Ars, France, said the pilgrimage represented a moment to pray for renewal in the priesthood.
"St John Vianney shows us that any priest could do what he did in Ars by simply, completely being a priest. There is no other secret."
The relic will later be taken to St Mary's College, Oscott, Birmingham, where a conference is taking place which focuses on the priesthood and its role in the life of the Church.
Member of the public can visit the relic at the college on Sunday afternoon, the diocese said. The priest's heart was flown from its specially-built chapel at the Church of Ars to Manchester Airport on Thursday.