Decision on future of St Laurence's church in Ludlow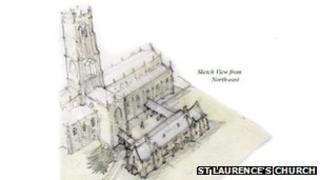 A Shropshire church is to get a new wing as part of a £4m restoration project.
Two options had been put forward for the future of St Laurence's, which has stood in the centre of Ludlow in its present form for 550 years.
The parochial church council has opted for an extension to the existing site.
Members of the public have "strong reservations" about the alternative which would have kept alterations within the church.
Church warden Ewart Carson said: "We've consulted with our congregation, with the public, with our visitors and overwhelmingly they are supportive of option B (extension) and have strong reservations about option A (internal alterations)."
"We are a long way from any final design at the moment. All we were doing was to choose between two concepts."
The church will submit a bid for Heritage Lottery Funding later this year.