Three men sentenced for 'vicious' Loppington robbery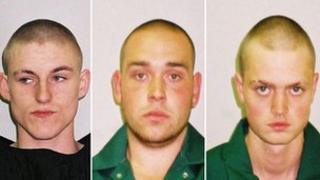 Three Shropshire men have been detained over an attack on a 76-year-old man that left him with head wounds and a fractured eye socket.
Matthew Anthony Wood, 19, Daniel James Jones, 21, and 18-year-old Christopher Weaver broke into John Savage's home in Loppington, near Wem, on 21 June 2011.
The trio, who were sentenced at Shropshire Crown Court, admitted robbing Mr Savage of £20 and his Ford Ranger.
Police praised Mr Savage's "courage".
Wood, from Noble Street, Wem, and Weaver from Queensway, Wem, were given eight years and three months, and seven years and 10 months respectively in young offenders' institutes.
Jones, of Aynesworth Green, Shrewsbury, was jailed for six years and nine months.
West Mercia Police said Mr Savage, who spent a week recovering from the attack at Royal Shrewsbury Hospital, was still receiving eye and dental treatment.
'No mercy'
At the time of the attack, he had been in bed asleep and was woken up by a torch being shone in his face, frogmarched downstairs and forced to lie face down on the floor, police said.
The three men used a belt to tie Mr Savage's hands behind his back and struck him around the head and face while rifling his pockets to steal the money and keys to his vehicle.
The vehicle was found by police several days later in the village of Hanmer, near Whitchurch.
Ch Insp Sarah Wagstaff said Mr Savage had shown remarkable "courage and humility".
She said: "Fortunately, he is physically strong for his age, otherwise this could easily have been a murder inquiry.
"Mr Savage has shown tremendous fortitude and spirit in the face of this vicious and horrifying ordeal. The three men responsible showed him no mercy."
Ms Wagstaff added that at the time, Mr Savage had seemed more concerned about the robbers, saying it was a "waste of three young lives".