Oswestry Show attracts thousands of visitors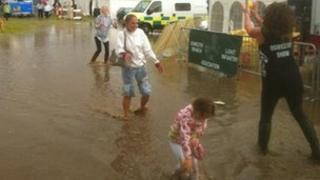 More than 20,000 people have attended a Shropshire agricultural show.
Oswestry Show organisers described it as a "fantastic turnout" after fears a few months ago that it might have to be cancelled due to the weather.
As well as horse, cattle and rare breeds competitions, the show also featured food and craft stalls and chariot racing in the main ring.
Heavy rain late in the afternoon caused flash flooding and up to eight inches of standing water.
Despite the rain, chairman Philip Jones said the attendance figures surpassed recent years.