Hawkstone Hall mansion house put up for sale for £5m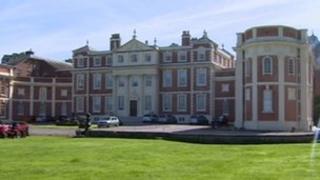 The grade-one listed Hawkstone Hall mansion house in Shropshire has been put up for sale for £5m.
The hall in Marchamley, near Wem, is being sold with 88 acres of land and a pair of semi-detached cottages.
It is currently run as a religious retreat by a Roman Catholic missionary congregation called The Redemptorists.
The house is also the former home of the Hill family, including Rowland Hill, who was the Duke of Wellington's deputy at the Battle of Waterloo.
The rector of the house, Father Maurice O'Mahony, said the hall was being sold as part of "restructuring plans" by the Redemptorists.
'International attention'
He said: "I think many religious congregations, especially in Europe, are experiencing a downturn in the numbers of people coming in to the ministry so that's had a knock on effect.
"People have asked me if I will miss it and I say that it is a bit like a corner shop in that you live at your workplace, but of course I will be very sad to go."
The house is being sold by estate agents Barbers and Reeves and Partners.
Nigel Grugeon, from estate agent Reeves and Partners who are selling the property, said it would "attract international attention."
"It is rare to deal with a property which has had so few owners down the centuries and it does bring us a sense of responsibility," he said.
The Hawkstone estate was owned by the Hill family from 1556 to 1906.
By the end of the 19th Century the family were bankrupt and the contents of the hall were sold.
The Roman Catholic Redemptorists bought it for £10,000 in 1926 as a seminary to train priests.
In the 1970s, the hall was turned into a pastoral centre and people come from across the world to attend a variety of courses and conferences.