Shrewsbury flower show boss Peter Road-Night retires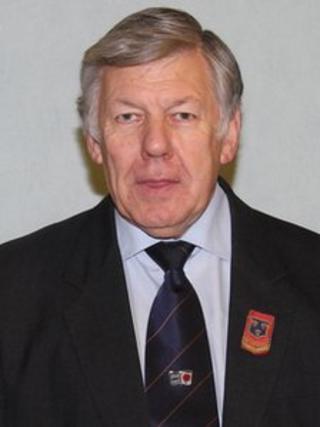 The secretary of Shrewsbury Flower Show has retired after 27 years in the job.
Peter Road-Night, 66, has been the secretary of Shropshire Horticultural Society and operations director of the flower show since 1986.
His final show was the 125th anniversary at the Quarry park last weekend, which organisers estimated about 50,000 people attended.
He said: "It's in my blood so although I'm standing down as secretary, I'm sure I'll still be involved somehow."
"I could've left the job two years ago but wanted to be here for the 125th anniversary, I'm sure I'll miss it all tremendously."
Mr Road-Night said the job was one that he "fell into".
After working as an Army bandmaster, he went to the forces employment office in Shrewsbury which found him the job with the horticultural society.
"I know absolutely nothing about horticulture, my garden at home is very much a lawn and some rose beds," he said.
"It sounds silly saying a person in charge of the flower show doesn't know about horticulture but my job is totally admin, finance and organisation. I have a great team around me and more than 60 volunteers to make this show a success."
'Financial success'
An estimated 50,000 people attended the flower show at the weekend and Mr Road-Night said he knew it would be a good turnout after "waking up on Friday morning to see blue sky and sun".
"The weather has been my major concern for the last 27 years because we do all the planning we can to create a super show. Two days of rain can be a financial disaster because people don't want to attend in bad weather."
The Shropshire Horticultural Society said flower show takings are about £800,000 a year and that the organisation has more than £5m in reserves to cover any shortfall.
"We get money from trade stands, rental for pitches, but ultimately it's all about ticket sales," said Mr Road-Night.
"For this year, we still have an awful lot of ticket money to come in from agents but it was apparent on both days there was a tremendous number of people here."
"I think at the end of the day my final show will prove to be very financially successful."
Mr Road Night said after retirement he planned to play more golf and to do more conducting and playing his bassoon around orchestras in Shropshire.
"I still want to keep some involvement in the flower show but far enough away from my successor not to tread on any toes," he said.