Painting of nun Elizabeth Prout at Shrewsbury Cathedral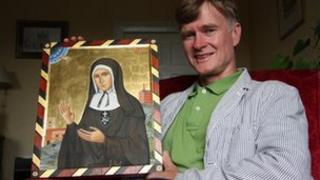 An icon of a Victorian nun who campaigners want to see beatified is to be displayed at Shrewsbury Cathedral.
Aidan Hart, an iconographer from Pontesbury, Shropshire, was commissioned by a parishioner to paint an icon of Elizabeth Prout.
Sister Prout was born in Shrewsbury in 1820 as an Anglican, but later became a Catholic and worked and lived in deprived parts of Manchester.
Mr Hart has been working on the icon since February 2009.
Not yet canonised
The artist, who grew up in New Zealand, said: "I received a phone call from a parishioner who asked if I could do an icon of Elizabeth.
"She told me a bit about her and she said she wasn't canonised, but hoped that she would be…. We had this long process of me coming up with the design…. and eventually settling on a design."
He is also a professional sculptor and works on a commission basis, with a two-year waiting list.
Mr Hart said: "There are not that many professional ones [iconographers] in this country, about 500 people doing it as a devout hobby, so we're a bit of a rarity.
"The word icon means image and refers to images of holy people, Christ and the angels, but painted in a particular way.
"We try to indicate the holiness of the person, so we're painting someone not just with the eyes of the body, but with the eye of the heart, so you're indicating spiritual truths as well as physical ones."
He "had a test of the monastic vocation" for years and during this time he painted other icons, but believes that this is the first of Sister Prout.
She was born in Coleham, Shrewsbury, but her family moved to Stone, Staffordshire in the 1840s.
Mr Hart said: "The gold isn't decoration, it really represents the presence of God, so we have a gold background with Elizabeth's hands raised in prayer."
"She's praying for the whole world and looking at us in compassion. She cared for the poor and in a sense we're all poor, so she's in heaven praying for us."
The icon includes St Julian's Anglican Church where she was baptised and the brewery in Coleham where her father worked as a cooper.
Sister Prout died in 1864 and is buried at St Anne's Church, Sutton, St Helens.