Stirchley furnaces reopen after renovation work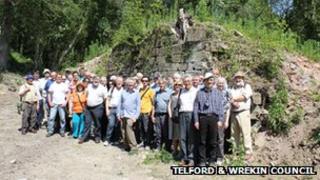 Two former furnaces in Shropshire have reopened to the public after renovation work to restore them to their original state.
The three-year project, led by Telford & Wrekin Council, removed overgrown vegetation from the Stirchley ironworks furnaces in the Town Park.
The structures' brickwork and masonry have also been repointed and repaired.
A learning zone hilighting the history of the site and a picnic area has also been created.
The Stirchley furnaces site was built in the early 1820s by Thomas Botfield and also included ironstone and coal mines, forges and housing for workers at nearby Hinkshay.
'Varied history'
During the renovation works, a so-called Botfield Furnace was discovered at the site.
A council spokesman said it was "tentatively associated" with Thomas Botfield's hot blast patent of 1828, an early attempt to introduce the hot blast method to the iron making process.
Councillor Arnold England, cabinet member for leisure and well-being at Telford Council, said: "This great new facility reminds us of the rich and varied history of our local area and is a good way to get your children learning something new while having fun at the same time."
Information boards will be put up in the area in 2013 to explain the area's historical significance.