Muller and Robert Wiseman Dairies agree milk price rise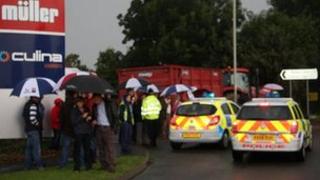 Dairy farmers are to receive a "substantial" rise in the price of milk after a deal with food manufacturer Muller UK.
The Shropshire-based processor, which also owns Robert Wiseman Dairies, has agreed to increase the price of milk to 29 pence per litre.
An increase of more than two pence per litre on the current base price, the news follows negotiations with farmers.
The Market Drayton depot was blockaded by farmers in August.
The changes will only affect farmers operating contracts directly with Muller UK or Wiseman, which also processes milk on behalf of supermarkets.
The Farmers For Action group, which was involved in protests last month, had given Muller UK until October to agree a new price deal.
The price rise is expected to come into force from 15 October and the company said it was also looking to "substantially increase" the number of its suppliers.
Pete Nicholson, Wiseman's milk procurement director, said Muller was ambitious to grow and play an even greater role in the UK dairy industry.
'Not enough'
Roddy Catto, chairman of the Wiseman Milk Partnership, said the company would be looking to pass on the price rise to its customers.
Andrew Bebb, who farms near Hanwood in Shropshire, said it was "good news", but still not enough to allow many farmers to break even.
"It needs to be 32 pence minimum if we're still going to be milking cows at the end of this winter," he said.
He said the cost of animal feed had already increased by 20%, a rise of £40 per tonne.
Earlier this month UK dairy farmers and processing firms agreed a voluntary code of practice to help make contracts more transparent and develop "trust" within the industry.