Shrewsbury's River Severn flood defences tested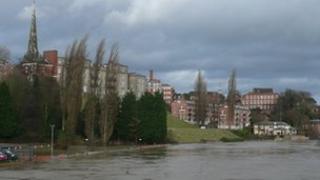 Flood defences which protect about 90 homes along the River Severn in Shrewsbury have been tested.
The Environment Agency and Shropshire Council carried out the exercise on Wednesday between 21:00 and 23:30 BST at Coleham Head.
It involved closing the road next to Rea Bridge to put up a flood defence wall and testing new pumping equipment.
"The trial is important to ensure we're ready if we need to put these barriers up," said Simon Jones from the council.
"They help protect a number of homes and businesses in this area and are vital to keep the town moving when the river level rises," he added.
Temporary barriers were used to protect Coleham Head from flooding for three years, until permanent flood defences were installed in 2010.