Worfield Cricket Club tea lady Vilma Buck is 56 not out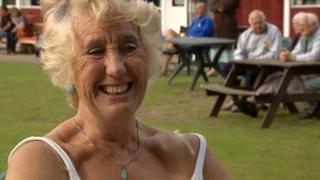 For 56 years, a Shropshire woman has been buttering bread and putting on celebrated spreads for her local cricket club.
Vilma Buck has been making the matchday teas for Worfield in its pavilion on the Davenport Estate, near Bridgnorth, since being introduced to the game by her late husband Roy.
Mrs Buck, from Albrighton, said: "I was 17 at the time and I remember saying to my mother 'If he thinks I'm going to watch cricket every weekend he's got another thing coming'.
"Fifty-six years later, he's been dead 19 years, and I'm still here watching cricket and making the teas.
"I don't think I've come back for the teas - it's for the company really and the friendliness of the club. All my friends are here."
At least three generations of the Buck family have been involved with the club.
The volunteer's late husband skippered the side and her son Stuart was the chairman before he lost his battle with Leukaemia in June this year.
Mrs Buck has vowed to continue her association with the club until her 13-year-old grandson Jonathan is "old enough to take over".
Award-winning service
She says there is no real secret behind the success of her buffets.
"Just good, plain, fresh sandwiches or cobs and nice cakes to make it look attractive," the grandmother continued.
"I've never had someone come in and say 'that was horrible'."
Mrs Buck's services have not gone unnoticed and she was recently given an Outstanding Service to Cricket award (OSCA) by the Shropshire Cricket Board.
A trip to Lord's awaits next month where she will be joined by other OSCA winners within the England and Wales Cricket Board structure in a celebration of the sport's unsung heroes.
Former England women's captain Baroness Rachael Heyhoe Flint presented Mrs Buck with her award at a recent match and acknowledged the role of cricket's volunteers.
"It's people like Vilma who keep clubs like Worfield going," Baroness Heyhoe Flint said.
"[She's] never been paid a penny. It's absolutely fantastic.
"I've never seen the table cleared so quickly in my life - they're very special teas here."