Shrewsbury flood defences taken down as alert remains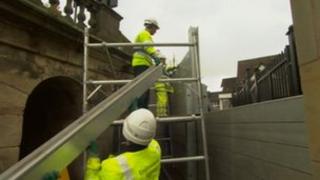 Flood defences put up in Shrewsbury have been removed although an alert remains in place for the length of the River Severn in Shropshire.
In Ironbridge, the Wharfage and Buildwas Road reopened after flash floods on Monday. Dale Road remained closed while the clean-up continued.
Flood defences will "not be deployed" in Ironbridge, Telford and Wrekin Council said.
Coalbrookdale and Ironbridge Primary School has also reopened.
Dave Throup, from the Environment Agency, said river levels in Shrewsbury had peaked.
"There is still quite a bit of water coming down from Wales, but that is expected to keep levels more or less where they are," he said.
Near the village of Rowton, 80-year-old June Vaughan has been assessing the damage at her house after Monday's flash floods.
At the height of the flooding, she said her home was surrounded by more than a foot of water due to run-off from a road and nearby fields.
She said: "I've been here for 43 years and this is the first year it's happened.
"It was terrifying and I've got such a mess to clean up now. It took my tarmac up and took gravel from the road right through my garden.
"On Monday a few local people helped to lay wooden boards to help duct the water past the house.
"They wanted to take me out, but I said 'no I'm staying'.
"The captain doesn't leave his sinking ship does he?"