Telford and Wrekin's co-operative policy 'creates jobs'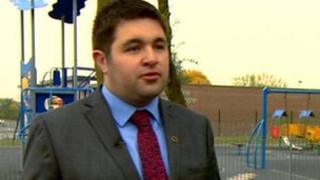 Telford and Wrekin Council says it is creating jobs and opportunities by working with different partners.
The council became a co-operative council and pledged to work with partners to help the community after the Labour group took control in 2011.
Labour councillor Shaun Davies said the co-operative approach had led to a scheme giving young people jobs working in environmental teams in the borough.
But Conservative councillor Andrew Eade said the council had not changed.
However, Mr Davies said if it had not adopted the co-operative approach and worked with partners the apprenticeship scheme would have been lost to "government cuts".
"The apprentices in the parish environmental teams came about because of partnerships between the parish councils and the borough councils so there's new jobs for young people," he said.
The council also announced a partnership initiative last week with supermarket chain Morrisons, Telford College and Job Centre Plus.
Through the scheme, Morrisons had agreed to interview some 16 and 17 year olds not in education, employment or training as well as people who used the council's employment advice service, the council said.
The council has been asked by the Co-operative Commission to support employment and skills.
However, Mr Eade said the council had always worked with other groups.
"This is what the council is here to do - we are here to represent local people, work with local people for the local borough and it was never any different from that.
"There's no tangible or palpable difference to a co-operative council from another other."
A total of 21 councils in England have joined a national network of co-operative local authorities.