Sandy: Shropshire students return home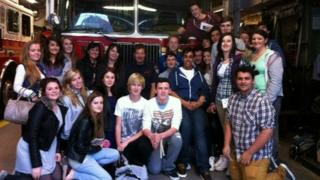 Pupils from a Shropshire school have arrived back in the UK after being stranded in New York for five days due to storm Sandy.
The 23 pupils and three members of staff from the Priory School, Shrewsbury, had been on a history and business trip.
They were originally due back on 30 October, but that was then predicted to be delayed until 8 November.
Pupils from Idsall School, Shifnal, are due back from New York on 6 November.
A third Shropshire group of 47 pupils and eight staff from Lakelands School, in Ellesmere, are still waiting for news about their return.
'Stories to tell'
Alan Wilson's daughter Kirsty is among the Priory School group and praised the school and its teachers for keeping the parents informed with the situation.
He said: "They were scared [the children] on the night of the storm obviously, but they got through it OK.
"They still had power [in midtown Manhattan], so that was good, but it was totally unexpected what was going to happen."
Mr Wilson, who said there were no problems in the area they were staying, said the students were told they had a couple of hours to get back to the hotel and pack for the early flight home.
He said: "They've enjoyed the experience, obviously, but they'll have lots of stories to tell."