Shropshire volunteers start search and rescue training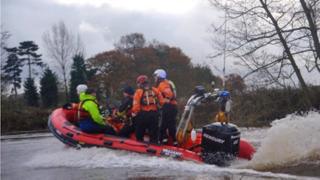 Volunteers in Shropshire are undergoing training to join a new team set up to respond to water based emergencies.
Steve Brown, 33, is one of 13 people who have joined the unit set up by West Midlands Search and Rescue.
He said: "I'm a project manager for an IT company in Telford, but I love the outdoors, I love walking.
"I've also always loved medical things and I thought what a great way to give something back to the community.
"The team is just getting established, but we've already become good friends."
Most of the team are from Telford but two are from Church Stretton while six are already qualified as ambulance service first responders.
The county escaped the worst of the flooding last month but West Midlands Search and Rescue said it was having to adapt to cope with increasing and changing demands.
Search for survivors
Chairman Richard Bailey said: "We usually only have one team per police force area, but with the best will in the world it would take us some time to support police in Shrewsbury from Worcester."
The organisation covers the West Mercia area, including Worcestershire, Herefordshire and Shropshire.
Set up in 2007, the team immediately found itself busy rescuing people isolated by floods in Upton-on-Severn.
"Some of our team members are community first responders for the ambulance service and at one point one of our team members was the only medical resource inside Upton, with everyone cut off," Mr Bailey said.
Funded by the Department for Environment Food and Rural Affairs (Defra), and part of the Association of Lowland Search and Rescue, the West Midlands team provides back up for emergency services 365 days a year.
It specialises in water rescues, searching for missing persons and first aid.
Although manned by volunteers, the team members undergo intensive training and use some of the latest equipment, from power boats to 4x4 vehicles, inflatable walkways and communications systems.
Last year the West Midlands team's radio network was deployed to Japan to help in the search for survivors after the earthquake and tsunami.
It was another disaster, the Asian tsunami of December 2004, that prompted Mr Bailey to join the team.
He said: "I worked for a tech research organisation. I knew nothing about search and rescue, but I felt frustrated that all this technology was just sitting around and not being used to help people."
'Changing dynamics'
The new team is currently undergoing training and getting to know the area better ahead of taking up operational duties.
Mr Bailey said the Shropshire team had been partly set up because of the "changing dynamics of floods".
He said: "Previously the River Severn went up and then it went down. You had three days notice as its effects travelled downstream.
"All that has changed, it can happen in a few hours. At 9am it could be raining in Ludlow and by 5pm Worcester could be suffering.
"What we have seen recently in Upton is that there have been very different flood levels.
"Some areas have very little problem, because of flood barriers. Other areas have it much worse than in 2007."
Mr Bailey said the rapidly changing nature of floods in recent years meant teams also had to be more careful.
"The fire services are very good, but sometimes what they think they are sending us out to might be very different when we get there."