HMP Shrewsbury: MP calls for talks with Prisons Minister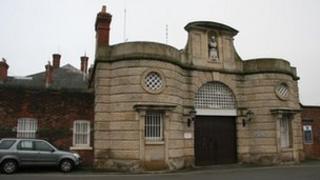 Shrewsbury's MP says the closure of the town's prison will have a "detrimental effect" and wants talks with the Prisons Minister Jeremy Wright.
Daniel Kawczynski, MP for Shrewsbury and Atcham, said he wanted to challenge the rationale behind the decision which was announced on Thursday.
HMP Shrewsbury, which employs about 190 staff, is one of seven prisons closing.
Mr Kawczynski said he was hoping to rally support from other MPs in the county.
He said: "There will be people living in neighbouring constituencies that are employed at the prison that will be affected by the closure."
'Challenge the rationale'
A spokeswoman from Mr Kawczynski's office said he was hoping to arrange a meeting with the Prisons Minister to "challenge the rationale behind the decision" as soon as possible.
The Ministry of Justice said the closures, which also include two partial closures, would save £63m a year in running costs.
Tony Merrick from the Prison Officers Association (POA) has said he was "confident" there would be no compulsory redundancies at HMP Shrewsbury.
Built in 1877 by Thomas Telford and now a Grade II listed building, the jail was originally designed to hold 170 inmates, but now has capacity for 340 prisoners.