Flood barriers go up in Ironbridge as river levels rise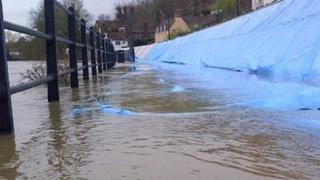 Temporary flood defences have been erected in Ironbridge, with river levels in Shropshire expected to rise again on Wednesday.
The Environment Agency (EA) said barriers were assembled along The Wharfage in the town after the River Severn reached 5.19m (17ft).
Flood warnings were issued at Ironbridge and Quatford.
The EA warned heavy rain on Tuesday was likely to cause river levels to rise again on Wednesday and Thursday.
Dave Throup, from the agency, said: "The rain is only just beginning to find its way down.
"I think we can expect another rise, because there's already been over an inch of rain in Wales today and another inch or so to come."
He said flood barriers were likely to remain in place in Shrewsbury and Ironbridge for the next few days.
Michael Budge, assistant manager at the White Hart, said: "The barriers do a good job. We haven't flooded since having them there but it does affect business.
"Ironbridge is like a ghost town at the moment. Hopefully it'll get back to normal by Thursday."
Shropshire Council said Frankwell car park had been partially reopened, although the Riverside car park remains closed.
Shropshire Fire and Rescue Service said it had not been called to a flood-related incident since Sunday.
Warnings were also in place for the River Vrynwy.