St Laurence's church in Ludlow scales back redevelopment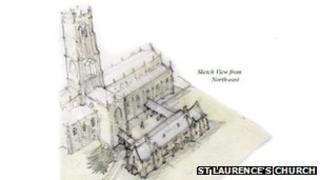 Plans to build a new wing at a south Shropshire church have been shelved.
It was one of two options put forward for the 800-year-old St Laurence's in Ludlow, designed to improve access and facilities.
The church said its full plans could have cost up to £11m and would have struggled to attract sufficient funding.
It said repair work on stonework and windows would go ahead and was expected to cost about £2.5m.
Some £300,000 has already been raised, including grants from the Conservation Trust of St Laurence's and English Heritage.
Project co-ordinator Shaun Ward said less than £40,000 was needed to complete the most urgent repairs.
"If we can secure this final amount then work can start on the roof in two months," he said.
Repairs to the roof and pinnacles are expected to take six months to complete.
The parochial church council said the total cost of repairs meant the project would focus on reorganising the internal layout of the nave, including removable seating, rather than the building of a new cloister.
Improvements to lighting, flooring and heating are also planned, including a biomass boiler.
Designs have been put together by Andrew Arroll, who is also architect to York Minster, and St Laurence's said they would be going on display in the coming months.
The project is not expected to be completed until 2015.