Shropshire to London trains: New service planned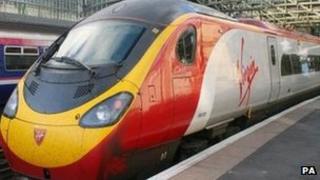 Two new train services from Shropshire to London could be running by December.
Virgin Trains has applied to Network Rail and the Department of Transport to run two direct trains a day from Shrewsbury to London Euston.
Spokesman Jim Rowe said getting permission depends on there being sufficient room on "a very crowded West Coast Main Line".
The company said it will know in March if it can begin running the service.
Shropshire Chamber of Commerce has said the new trains must become a permanent service.
'Stunt growth'
President John Clayton is concerned Virgin's franchise for the West Coast Main Line is only temporary and said the Department of Transport must not look for a "quick fix".
"We think the government should ensure that rolling stock is commissioned now for the next franchise operator to take over," he said.
The chamber is writing to the department to get reassurances the services will not be dropped after a couple of years.
There is also a campaign to ensure that any new trains stop at Wellington and Telford.
Telford councillor Mike Ion said there was "every reason to be optimistic" but that it was not "a done deal yet".
"We've just got to be realistic about the type of trains they are going to operate and platform requirements, and that was always the question mark.
"From what I gather Wellington will be sufficient in terms of length of platform - Network Rail may have a different view," he said.
Mr Clayton said the Telford population is due to double in size by 2026 and the absence of a proper rail service could "stunt its growth".
A previous rail link to the capital stopped in January 2011, with the Wrexham, Shropshire and Marylebone Railway Company blaming a fall in passenger numbers.