Neenton villagers plan future development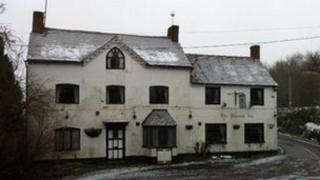 A group of villagers in Shropshire hopes to revitalise the community by a partnership with local developers.
A planning application to build seven new homes in Neenton, near Bridgnorth, has been approved.
The plans were put forward by villagers who approached developer South Shropshire Housing Association.
John Pickup, chair of Neenton Community Society, said the deal would bring more people to the village and pay for the acquisition of the local pub.
He said the village had been "left with nothing" after The Pheasant closed down six years ago.
"There's been nothing, no shop, no school, no village hall, no post office," he said.
"We realised if we didn't do something, try to get the pub back, we were just a dead village, a collection of houses."
'Really exciting'
The deal with South Shropshire Housing Association means seven properties will be built, two of them affordable homes, with some of the revenue returning to the community group to buy the pub and pay for its refurbishment.
Mr Pickup said a community room would also be built alongside the pub to give people a place to meet.
He said the new homes would also help bring new life to the village.
Much of Neenton, which featured in the Domesday Book, is in a conservation area.
Neenton Community Society said it hoped the development would help improve the area and take it off the English Heritage At Risk register.
The project has been praised by government, with communities minister Don Foster describing it as "really exciting".
He said: "It's another example of a community coming together to decide what it wants to do to improve local facilities... coming together for their own benefit."