Donnington defence staff protest over privatisation plans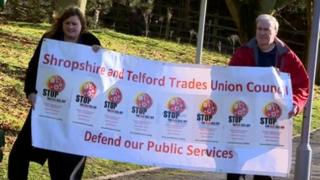 Protests have taken place at a Ministry of Defence base in Shropshire over government privatisation plans.
The Unite union said 60 to 70 staff at Donnington's Defence Support Group (DSG) base took part in the protest during a visit by defence minister and Ludlow MP, Philip Dunne.
Mr Dunne was there to present campaign medals to DSG staff who have served in Camp Bastion in Afghanistan.
The DSG employs 2,700 staff across the UK, with 900 based at Donnington.
It is owned by the Ministry of Defence (MoD) and is the dedicated maintenance and repair service for the British armed forces' vehicles, weapons and communications systems.
'Totally hypocritical'
The MoD has been undertaking a review of the DSG throughout the UK with a view to possible privatisation of some or all of its operations.
But an MoD spokesman said "no decisions had yet been taken".
Unite's general secretary, Len McCluskey, criticised the minister's visit, saying: "It's totally hypocritical of Philip Dunne to turn up and give medals to DSG staff, at the same time he is planning to sell their jobs from under them."
However, a DSG spokesman said any privatisation "could grow the business".
Last July the then defence minister Peter Luff said Donnington would not close but did not rule out job losses.
"Donnington has a very positive future to play in defence, whatever happens there. It's an important site," he said.