Baschurch broadband scheme delayed by weather, says BT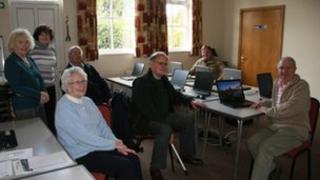 Wet weather last year is to blame for delays in completing a superfast broadband project in north Shropshire, BT claims.
Baschurch and its surrounding villages, was one of 10 areas in the UK to win the company's Race To Infinity in January 2011.
While the first homes were connected last year, most are now expected to have broadband access from April.
It means the project will be a year behind schedule.
BT apologised to villagers and said England's wettest year on record had delayed laying the underground fibre optic lines necessary for the very fastest broadband connections.
Ian Binks, from BT, said: "We had to make a decision, do we deliver on our promises or go for something cheaper and easier. We chose to honour our promises."
While some 350 homes in Ruyton-XI-Towns have already been connected using a fibre-to-cabinet approach (making use of existing copper cables), a further 1,100 homes are expected to be able to access the faster fibre-to-premises line from April.
Colin Case, the first person connected as part of the scheme, said it caused envy in neighbouring villages, which have had to wait more than a year.
'Lightning fast'
Ruyton's relatively "slow" connection - at least in the world of superfast broadband - means Mr Case enjoys a 37MB/s connection, far faster than the majority of homes even in cities.
He said: "It's absolutely lightning fast. If you're just doing e-mails, twitter and facebook the difference between 2 and 35 MB/s is probably not particularly noticeable.
"However, if you're maintaining websites like I do, or if you're sharing a connection, then the differences are very substantial indeed."
Some villages in the area, including Baschurch itself, could soon however be running broadband speeds far faster than Ruyton.
BT said depending on what speed Internet Service Providers support, villagers in the area could have speeds of up to 300MB/s.
The Race To Infinity saw more than 360,000 people across the UK vote in the three-month competition.
It was at the time a rare chance to bring broadband to rural areas, which do not offer the same commercial return for BT due to lower populations.
The company has now said it is aiming to get an extra 17,000 homes in Shropshire hooked up to a superfast broadband by spring 2014, although most of those will be in urban areas.