Ludlow Town Wall partially collapses damaging a car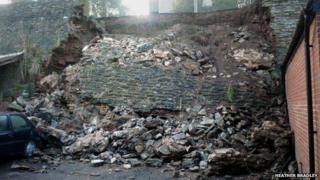 A 33ft (10m) stretch of Ludlow's historic town wall has collapsed damaging a car and several garages.
The section on Upper Linney, behind St Laurence's Church, gave way in the early hours of Monday.
Shropshire Council has carried out an initial inspection of the damaged wall, which is about 800 years old in parts, and fenced it off for safety reasons.
An investigation is now under way to determine the cause of the collapse that happened at about 03.00 GMT.
It is the latest in a series of Ludlow Town Wall collapses in recent years, resulting in repair costs of nearly £1m.
These repairs have been jointly-funded by private owners, local councils, English Heritage and the Heritage Lottery Fund (HLF).
Rosanna Taylor-Smith, councillor for Ludlow North, said: "Luckily no-one was injured when the wall collapsed, although a car parked below was damaged by the falling debris."
Martin Taylor-Smith, cabinet member responsible for assets and councillor for Ludlow South, added: "We now need to carry out further investigations to determine what repairs are needed, and we will work closely with English Heritage on this."
The Ludlow Town Walls Trust was set up in 2007 to help attract funding for the scheduled ancient monument.