Ludlow Town Wall: Further section partially collapses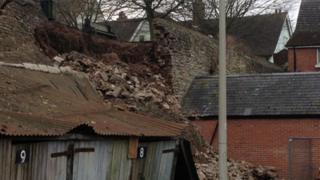 A further section of Ludlow's historic town wall has collapsed, creating a gap of about 13ft (4m).
It happened on Wednesday afternoon, at the rear of The Compasses pub on Corve Street, and follows a collapse close to the spot earlier in the week.
On Monday, On Monday, a 33ft (10m) stretch of the wall, on Upper Linney, behind St Laurence's Church, gave way damaging a car and several garages.
The area has been fenced off and council engineers are making it secure.
BBC Shropshire reporter Mark Elliott said: "Residents say they didn't hear too much of a commotion, but as you come outside there's a gap, maybe three or four metres long and an awful lot of rubble on the floor."
The incidents are the latest in a series of collapses in recent years, resulting in repair costs of nearly £1m.
Repairs have been jointly-funded by private owners, councils, English Heritage and the Heritage Lottery Fund.
The Ludlow Town Walls Trust was set up in 2007 to help attract funding for the scheduled ancient monument.