Ludlow town wall repair work to cost £400k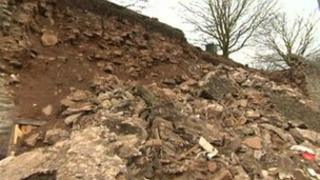 Repairs to a Shropshire town's historic walls could cost as much as £400,000, according to the county council.
Two sections of the wall around Ludlow collapsed last week, with gaps appearing on Upper Linney and Corve Street.
Shropshire Council engineers have been assessing the damage at both locations.
A council spokesman said the estimate for repairs for the two collapses was based on work along similar stretches of wall in previous years.
Colin Richards, the historic environment manager for the authority, is leading the repair work.
'Unpredictable situation'
Mr Richards said: "We've had a significant collapse each year for the last 10 years.
"We're going through a period where we get very dry periods and wet periods and then very cold periods.
"What that creates is a lot of movement in the material that backs up against the walls.
"If we get a lot of moisture which then freezes it can give it a nudge and then we get collapses.
"The situation at the moment is unpredictable.
"That is why we're paying such close attention to the wall. We've got engineers looking at the most vulnerable sections and on this north face its the highest point of the walls that exist around the town.
"They exist for about two miles around the perimeter of the town but along this north face they have all the prevailing wind and weather from the north and they take the biggest hit of any section."