Oswestry hospital tests if chewing gum can help surgery recovery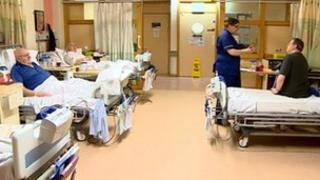 A research team is to analyse if chewing gum can help patients recover after surgery.
The study at the Robert Jones and Agnes Hunt Orthopaedic Hospital near Oswestry is being run by Dr Gareth Ackland at University College London Hospitals.
It is one of 40 studies taking place at the hospital in Shropshire.
The study will assess if "sham feeding" can stop nausea after surgery which can be caused by a patient being starved before a general anaesthetic.
'Absorbed better'
Teresa Jones, research manager at the hospital said orthopaedic patients would be asked to chew gum for 30 minutes, four or five times a day, following surgery until they are discharged.
She said: "Chewing the gum makes the brain think there's food coming down into the stomach. The chewing also activates the saliva glands so the stomach gets ready to take food in.
"So when the food does hit, or the drugs we've given patients straight after surgery, they are going to be absorbed better."
The hospital said chewing gum activated gastrointestinal hormones, which could help prevent nausea, vomiting and abdominal discomfort.
So-called gut motility is also believed to have an impact on other body systems and could protect patients from other illnesses while they are recovering, the hospital said.
The trial is expected to start in the next six weeks and the hospital will ask up to 50 patients undergoing hip and knee replacements to take part, unless they have dentures.