Shrewsbury music shop sign hits out at parking charges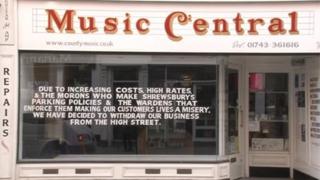 The owners of a music shop in the centre of Shrewsbury have used a sign in its window to launch an attack on the local authority.
County Music Supplies' store on Wyle Cop closed last week, blaming increased costs, high business rates and parking charges in the town.
It said parking policies had made customers' lives "a misery".
Shropshire Council leader Keith Barrow said parking charges were competitive compared with towns of a similar size.
Parking in Shrewsbury costs up to £1.50 for an hour and £3.50 for up to three hours.
On-street charges were introduced on Sundays in the town in January, although they have been in place at council-run car parks for several years.
Shropshire Council said the financial pressures it faced made it difficult to cut charges.
The owners of County Music Supplies, which sold instruments, were unavailable for further comment.
Other business in the area said the company had traded on Wyle Cop for about seven years, although only moved into the current location two years ago.
Some traders said parking was a deterrent to would-be shoppers. Jo Bloodworth, who works at gift shop Cornucopia, said customers had brought up parking charges in the store.
Heather Maskill, who owns the Little Furniture Shop on Wyle Cop, said parking was an issue, but it was the same in towns across the country.
She said: "In the 12 years we've been here we've seen less footfall on the high street, but you either shut the doors, or get on with it.
"You've got to go out and work hard to get the customers, not just sell online, but use Facebook and other sites to attract them.
"Waiting for someone to come through the door is a disaster waiting to happen."