Ellesmere police base considered by West Mercia Police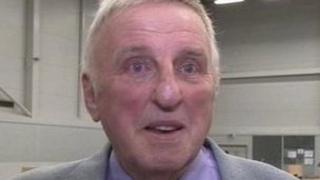 A Shropshire town could still have a police base despite its police station being at risk of closure, West Mercia's Police and Crime Commissioner has said.
Ellesmere's police station is one of 30 facilities set to be axed by the force in order to avoid cutting some jobs and to save £1.5m.
Bill Longmore said no final decision had been made over Ellesmere.
County councillor Ann Hartley wants the force to consider moving into the town's fire station.
Ms Hartley, deputy leader of the Conservative-run authority, said: "The fire station is a part-time fire station next door to the police station.
"They have a big room at the back, which they've been keen to use as a community room for many years.
"It would be obvious to co-locate the police into the fire station for two reasons really - keeping the police presence in the town and also making the fire station more viable."
Mr Longmore said he was willing to look at any evidence which would suggest the force could have "an alternative smaller post within that area".
He said: "It's an open consultation.
"There are no firm decisions made and we want the case put to us and I can assure everyone it will be listened to fairly by both myself and the chief constable."