Ludlow town wall collapse: Residents return to their homes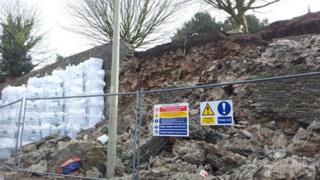 All the people who left their homes when part of Ludlow's ancient walls collapsed have now returned, according to the Diocese of Hereford.
Shropshire Council had advised people in houses along The Linney to leave because part of the wall was "unsafe".
The collapsed section buttresses the graveyard of St Laurence's Church, and is owned by the diocese.
Because the churchyard is closed for burials the council is responsible for repairs, a spokesperson said.
Three couples left properties and were offered temporary accommodation when the collapse happened in February. Another three couples decided to stay, despite the council warning.
Rosemary Thomas, who rents out a holiday cottage in The Linney, said she was "relieved" that the diocese and the council have decided the remaining wall is safe.
The Ludlow Town Walls Trust said it was planning to make a fresh bid to the Heritage Lottery Fund to help pay for the maintenance work to the 13th Century defences.