HMP Shrewsbury emptied ahead of closure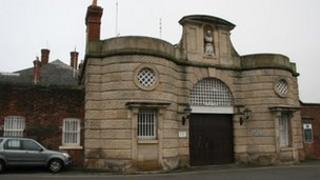 Shrewsbury prison is being emptied ahead of its closure at the end of the month.
The last inmates were transferred to other prisons on 27 February.
HMP Shrewsbury, also known as the Dana, is one of seven prisons which are due to close as part of a reorganisation by the Ministry of Justice (MoJ) designed to cut costs.
Items including medical and office equipment are being taken to Stoke Heath Young Offenders Institution.
Kitchen facilities, as well as library and educational materials are also due to be sent to other prisons.
Kevin Fray from Glyn Upton Removals said the narrow Victorian doorways and corridors made the task difficult.
Prison staff are currently working to decommission the category C institution, built in 1877.
The MoJ said the reorganisation, which also includes two partial closures, would save £63m a year in running costs.
They are due to be replaced by a 2,000-capacity super prison , along with four smaller ones, each holding about 400 inmates.