Shropshire trust cancels hundreds of routine operations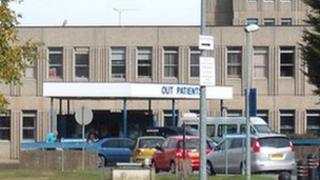 Hundreds of routine operations are being cancelled in Shropshire because of "unprecedented" demand for emergency care and bed shortages, a trust says.
Shrewsbury and Telford Hospital NHS Trust cancelled about 200 operations in January and 224 last month.
Chief operating officer Debbie Kadum said the cancellations were "a national problem" partly caused by NHS cutbacks.
The demand for care in Shropshire was also contributing to a rise in staff sickness levels, she added.
Ms Kadum said there had been a higher than expected demand for emergency care at both the Royal Shrewsbury Hospital and Telford's Princess Royal.
"We would normally expect to see a surge in demand in the winter but it's been above what we would expect," she said.
"We have opened all the beds possible to cope with this but it's been insufficient, so the only way that we can safely care for patients that are coming to both hospitals as emergency admissions is to cancel operations which obviously is not what we want to do at all."
Twitter concerns
Consultant Mark Cheetham said there had been no planned colorectal surgery at the Royal Shrewsbury for three months.
He has taken to Twitter to voice his concerns.
"Another day, another operating list cancelled," he said in one tweet.
"We are maintaining the standards of care but it's a struggle on a daily basis," he told the BBC.
He said most of his work involved emergency treatment, such as urgent cancer surgery, which was taking place.
The trust opened two extra wards in September and was also using day surgery beds to cope.
Ms Kadum said it was now working with social care to ensure patients did not stay in hospital longer than needed.
"In general we have 50 to 60 patients in both hospitals who are fit to be discharged from the hospital and are waiting some aspect of social care," she said.
Staff sickness levels at the trust were at 5.3% in January, compared to a target of under 3.5%. Ms Kadum said this was partly as a result of "pressure" on staff and additional employees were being taken on.
"I would say some of the issues that we are having is each organisation trying to achieve their savings targets which means that getting patients out of hospital is becoming more difficult," she said.
A Department of Health spokesperson said: "The latest national statistics show that average waiting times are low and stable, while the number of patients waiting longer than 18 weeks for treatment is nearly 70,000 lower than in May 2010.
"We have provided £330million to NHS and social care services to help them cope with added pressure during the winter.
"However patients should not experience any undue delay at any stage of their treatment and we expect all parts of the NHS to match the performance of the very best."