Sheep farmers' 'heartbreaking' lamb losses in snow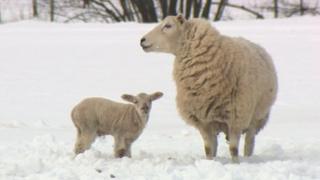 "The situation's desperate," said sheep farmer Malcolm Roberts.
"Ewes are wandering off to give birth in quiet little nooks in the field, meaning we can't find them. The lambs are being born overnight in temperatures of -5C, -6C.
"They're being born - in effect - in ice baths, so it's no wonder they can't survive."
Usually, about 1,500 lambs are born each March and April to the 1,000 sheep on Mr Roberts' farm near Oswestry, Shropshire.
The farmer said he normally expected to lose about 4-5% of the lambs.
However, this year, following an outbreak of the Schmallenberg livestock virus and another bacterial disease caused by continuously damp soil, along with the ongoing freezing conditions, he expected that number to be 10-12% higher.
'Just awful'
"It's not just the terrible conditions that the lambs are being born into though," he added.
"The ewes can't get to the grass to feed, which means they haven't got the energy to produce enough milk for up to two lambs each - and also the heavily pregnant sheep can't get the nutrients they need.
"We're having to bring in extra feed for them, but it's a struggle to get sheep to come over to the troughs, and also with the high price of grain because of the terrible wet year we had last year, we just can't afford for this to continue."
He said conditions were some of the worst he had experienced in his 31 years of farming and said the warnings of extra snow before Easter were "just awful".
"And of course, once it thaws it's the flooding we've got to look out for," Mr Roberts said.
"We're in the catchment area of the Severn and often get hit by that too."
Fellow sheep farmer James Evans said it was "too early" to count how many lambs had been lost on his farm near Bishops Castle this year.
He said many had sheltered where there had been snow drifts of several feet and that those bodies would only be found once the snow had thawed.
'Hits home'
"It's absolutely heartbreaking," he said.
"You put all that time and effort getting to this stage and to see the losses around the fields, it really hits home."
The National Farmers' Union said it was too early to collate figures for how many lambs had been killed by the icy weather so far.
Officials said crop farmers had also been badly affected by the ongoing snowy conditions.
Anthony Snell, who grows strawberries, raspberries and blackberries on his farm in south Herefordshire, said he was currently about two weeks behind on planting this season.
"The snow and frozen ground means we've just not been able to do the planting we normally can," he said.
"Not having an early season means the supermarkets have to stock more imported soft fruits, which of course is bad news for us. And in cold weather people are less inclined to buy summer fruits like strawberries and raspberries."
Mr Snell, a third generation farmer, said growers had become used to unpredictable seasons, but added they "seemed to be getting more and more common".
"But the weather can change very, very quickly," he added.
"I remember in 1982 we had a particularly cold winter, which was followed by a long, dry summer. And those conditions can have the benefit that the fruit is tastier because it's had longer to mature.
"We can only keep our fingers crossed and hope the weather starts to improve soon."