Ironbridge Gorge stabilisation work starts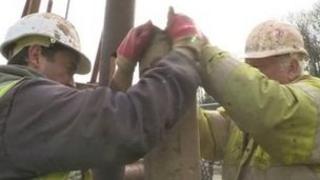 Drilling work has begun as part of a project to help preserve the Ironbridge Gorge in Shropshire.
The UNESCO World Heritage Site is under threat from landslides and slippage which could seriously damage the historic iron bridge and gorge.
Telford and Wrekin council said it was drilling bore holes between the Jackfield tile museum and the Boat Inn to monitor the movement of the land.
It said those surveys would provide the basis for repair plans.
Neil Rushton from the council said: "We want to sink several hundred piles and embed them into the solid rock underneath the land that is sliding.
"They'll work as a buried retaining wall to hold back the soil and stop it from sliding."
He said he hoped the repairs would last for 100 years.
Land in the Jackfield area is moving at a rate of one metre a year, and the council said it had spent more than £16m on tackling instability in the gorge.
The government is giving a £12m grant to the Ironbridge stabilisation scheme, with the condition that it must be completed by April 2016.