Blists Hill Victorian Town marks 40 years in Shropshire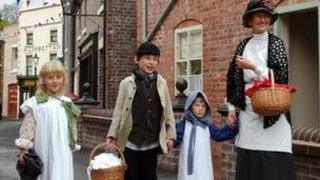 Blists Hill Victorian Town in Shropshire is celebrating its 40th anniversary on Monday.
Opened on 1 April 1973, the reconstructed Victorian Town is marking the event with talks and an exhibition showcasing its development.
It is one of ten museums set up to preserve the remains of the Industrial Revolution in the area of the Ironbridge Gorge.
Collectively the museums attract more than 550,000 visitors each year.
The aim of Blists Hill is to recreate the sights, sounds, smells and tastes of Victorian life, with characters in cottages, shops and places of work across its 52 acres (0.21 sq km).