Cross Street in Oswestry shut after building guttering falls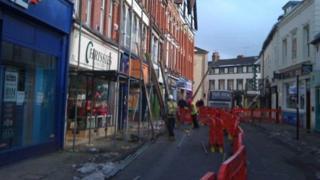 A street in a Shropshire town has been closed after a section of guttering fell from a building.
It happened on Monday in Cross Street, Oswestry. Shropshire Council and the fire service said the temporary closure was imposed as "a precaution".
The local authority said snow and cold weather had badly damaged the old cast iron guttering, causing it to break.
Madeleine Roberts, who runs the nearby Coral bookmakers, said it was "lucky" nobody had been hurt.
She said there had been an "almighty crash" as a piece of guttering about 3ft-long (91cm) fell onto the street.
The council said shops were open and a covered walkway had been constructed to provide access while repairs continue.
Cross Street, which has normally has restricted access for vehicles, is expected to remain closed until a further review on Wednesday.