Worfield cricket club appoints first woman president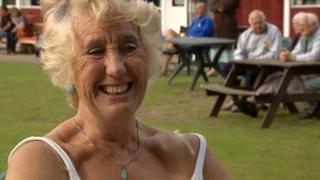 A Shropshire cricket club has elected its first woman president ahead of the new season.
Vilma Buck has a 57-year association with Worfield since being introduced to the game by her late husband Roy.
Mrs Buck began by making match-day teas for the club in its pavilion on the Davenport Estate, near Bridgnorth.
She received an Outstanding Service to Cricket award by the Shropshire Cricket Board last year and will be president for two years.
Mrs Buck, from Albrighton, admits she has done everything for the club bar "pulling a pint" and describes her appointment as "gobsmacking".
She said: "When I first started we [women] were only good enough to do teas.
"If I scored, when there was a photograph in the Bridgnorth Journal one of the children used to hold the book because they couldn't have a lady in the picture.
"It has come on a bit since then and luckily we have got a good girls team and we're having a ladies team this year which, for this area, is really good.
"I expect I'll still be tea lady. I'll probably do that better than I do president."
If Mrs Buck does continue to cater on match days it will be in a new pavilion which has been erected over the winter thanks, in part, to a grant of nearly £200,000 from the England and Wales Cricket Board.