Royal Shrewsbury Hospital surgery cancelled due to A&E demand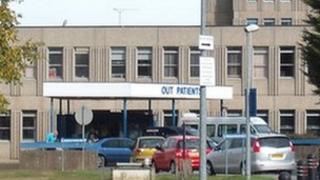 Operations and appointments were cancelled at the Royal Shrewsbury Hospital on Tuesday due to increased pressure on its A&E unit.
Shrewsbury and Telford Hospital NHS Trust said it had experienced an "exceptionally high level of demand".
It said it had been forced to "focus all of our staff and resources on providing care for people with urgent or critical needs".
The trust said services were expected to return to normal on Wednesday.
It said unless people had been informed otherwise, they should assume clinics and operations would go ahead as planned.
A spokesperson apologised and said the hospital would be in touch with those affected on Tuesday to rearrange appointments.
Major incident
Hundreds of routine operations were also cancelled earlier in the year due to bed shortages and pressure on acute services.
Last month, figures also showed the trust was regularly failing to meet government targets at its A&E units in Shrewsbury and Telford.
Despite the problems, medical director Edwin Boorman denied suggestions the hospital's A&E could not cope on a day-to-day basis.
He said an extra rise in demand in the last 24 hours, coupled with difficulties freeing up beds, meant the hospital had been forced to enact major incident procedures "for the first time as far as we can recall".
He said patients had come to A&E with a range of illnesses and many of them needed to be admitted to already busy wards.
The trust said it was part of a pattern of increased demand at hospitals across the West Midlands.
Caron Morton, of the Shropshire Clinical Commissioning Group, said patients without life-threatening injuries could help by using the Shropdoc out-of-hours service or walk-in clinics instead of attending A&E.