Shrewsbury Big Busk raises £3,000 in memory of Ben Bebbington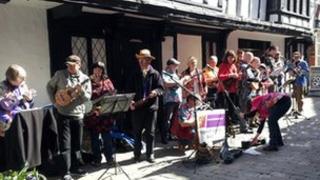 A busking event in Shrewsbury, in memory of a man murdered in the town last year, has raised more than £3,000.
Guy Benson Bebbington, 43, died in hospital in September after being attacked between Ditherington Road and Telford Way.
A 21-year-old man has admitted murder. Another man, aged 18, is due to stand trial next month.
On 6 April about 200 musicians played in Shrewsbury to raise funds for the Shrewsbury Ark homeless drop-in centre.
Mr Bebbington, known as Ben, was a local musician and a regular visitor at the charity.
'Community spirit'
His sister Karen Higgins, who helped organise the Big Busk, said he would have been pleased with the event.
She said: "The whole experience has been quite overwhelming. For the family it's been a healing process.
"When you experience the worst in society, as we did last year, to be in Shrewsbury on 6 April, that was the best in society.
"The number of tweets and messages we've had about the community spirit... was worth more than the money raised."
Funds raised from the event will be donated to the drop-in centre.
Ms Higgins said it would be put towards the Ark's £85,000 a year running costs or to help buy a van.
She said the family planned to put on a similar event next year.