Ditherington Flax Mill in lottery funding bid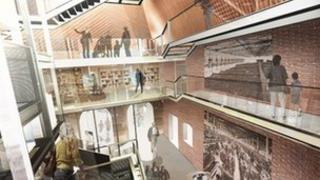 A £12.8m bid has been submitted to the Heritage Lottery Fund (HLF) to help restore a historic flax mill.
English Heritage said the Grade I-listed Ditherington Flax Mill in Shrewsbury, built in 1797, was the world's first iron-framed building.
It was later turned into a maltings for the brewery industry, before being abandoned in 1987.
The project team said, if the bid was successful, work could start in September.
Last May the HLF gave its initial backing for the scheme and awarded it more than £465,000 to develop detailed plans.
It is due to make a final decision on the main bid in July.
'Hundreds of jobs'
Project partners English Heritage, Shropshire Council and Friends of the Flaxmill Maltings said, if successful, the first phase of work would focus on the stove and dye, as well as the main mill.
Regeneration plans include public access areas and office space, that Shropshire Council said could support hundreds of jobs.
The local authority said, if the plans went ahead, the revamped mill could open to the public in 2016.
With its iron frame, the flax mill is considered as the direct forerunner to the skyscraper and project officer Fay Bailey said it was of "international significance".
"We have something here that can attract people from all over the world and says something hugely important about the history of Shrewsbury, Shropshire, about the factory system, the development of building styles and techniques."
She said a continuing archaeological dig also hoped to discover more about the social history of the site.