Trees come down during high winds in Shropshire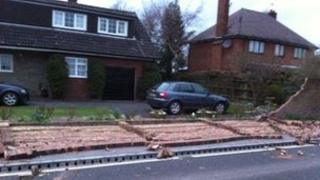 High winds led to trees coming down and other debris falling in parts of Shropshire overnight.
There were about 15 incidents in the Oswestry area and a handful in Shrewsbury on Wednesday evening and night, Shropshire Council said.
Some roads were partially blocked while the highways teams cleared debris, but no streets were closed on Thursday morning due to the impact of the winds.
A wall blew down in Preston Gubbals between Wem and Shrewsbury.