Shropshire town 'loses out on democracy'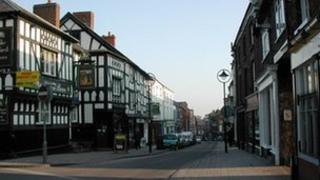 Early on 2 May, staff running polling stations across Shropshire will be arranging ballot papers, tying down pencils and dusting down booths.
Everywhere that is except the market town of Whitchurch.
All three of the town's seats on Shropshire Council will go uncontested, along with town and parish council seats, leaving its thousands of residents without a vote.
Peggy Mullock, current mayor of Whitchurch and one of seven Conservatives set to walk into office on the unitary authority next month, said she regretted the lack of an election.
She said: "It's a shame really that nobody's put themselves forward. For a candidate it feels far better to be voted in than to walk in.
"To be honest, I'm quite surprised. I knew of at least one other person who was expecting to stand, so they must have pulled out at the last minute."
'Target seats'
When Shropshire first became a unitary authority in 2009, Ms Mullock at least faced a challenge, with a total of 10 candidates standing across the Whitchurch North and South wards.
Alongside the two Whitchurch wards, Corvedale, Shawbury, St Oswald, and The Meres will all go uncontested.
It means the Conservatives have already won as many seats on Shropshire Council as Labour currently hold, even before a mark is made on a ballot paper.
Alan Moseley, leader of the Labour group on Shropshire Council, said: "We only have so many resources and we are having to target very carefully those seats we think we have a reasonable chance of winning."
He said while Whitchurch might be a Labour-free town, across Shropshire Council as a whole the party was putting forward more candidates than ever before, particularly in the Shrewsbury area.
The Liberal Democrat group leader Nigel Hartin said his party had also chosen very carefully which wards to stand in, depending on its chances of success.
He said: "We just don't have the resources of the Conservatives. We would have loved to challenge in Whitchurch and other areas.
"It certainly doesn't look good for people in the area not to have a choice."
'Rotten boroughs'
Excluding Telford & Wrekin, which is not up for elections this year, about 22,000 eligible voters in Shropshire will be without a vote on 2 May due to a lack of candidates.
The Electoral Reform Society, which campaigns for a change in the first-past-the-post voting system, said it effectively created "rotten boroughs".
Darren Hughes, director of campaigns and research, said it turned "swathes of the county to one-party fiefdoms, which opposition parties simply won't touch".
"There's something very wrong with democracy in Shropshire when nearly 22,000 people won't get to cast a vote on polling day," he said.
The picture is also similar for other county elections.
Across Shropshire as a whole, there are 1,429 seats available on town and parish councils, but only 1,231 valid nominations.
Only about 10% of the 140 parish councils will need to go before voters in May and in most councillors will be co-opted without ever having to fill in a nomination form.