Lord Hill statue in Shrewsbury 'could be wrapped in net'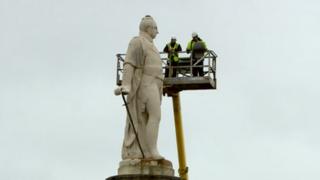 A statue, cordoned off after pieces of masonry fell from it, could be covered in a net to stop any more stone breaking off, a council has said.
A safety cordon around the 133ft (40.5m) tall column in Shrewsbury, on which the statue of Lord Hill is mounted, was extended in December.
Shropshire Council said several small pieces of stone fell outside the cordon during high winds on Wednesday.
A safety inspection would be carried out on Monday, the authority said.
The base of the column is currently surrounded by fencing after pieces of stone fell from the statue in April 2012 and again in December.
Battle of Waterloo
The council said the perimeter could not be extended any further, so it was looking at other options including the possibility of covering the statue in netting.
Rob Wagstaffe from the council said: "In the past few months heavy rain, frost and now wind have caused pieces to break off the statue.
"Our priority is to ensure the safety of people passing by the column so we've called in structural engineers to carry out a further assessment of the statue and to offer their professional advice about what action can be taken."
English Heritage is currently considering a number of options for the future of the statue which includes fully repairing it or replacing it with a replica.
The statue commemorates Waterloo general Lord Rowland Hill who was born in Hawkstone in 1772 and was second in command to the Duke of Wellington at Waterloo in 1815.