Market Drayton gas cylinder fire: Businesses evacuated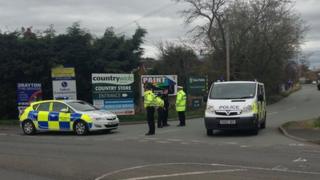 Businesses near a Shropshire industrial estate have been evacuated because of a fire involving gas cylinders.
A 200m (650ft) exclusion zone has been put around Minshull Construction on the Adderley Road Industrial Estate in Market Drayton.
Three crews are at the scene trying to cool acetylene and oxygen cylinders, Shropshire Fire Service said.
A supermarket and leisure centre were among the companies evacuated. The fire service said no one has been injured.
Carl Franks from the fire service said: "We got the fire quickly under control and now we're cooling down the acetylene cylinders to the point where hopefully we'll be able to turn them off and then we can look at reducing the exclusion zone."
He said the service was reviewing the situation on an hourly basis but warned that the tanks could take up to 24 hours to cool down.