Dennis Edwards throat death prompts NHS trust changes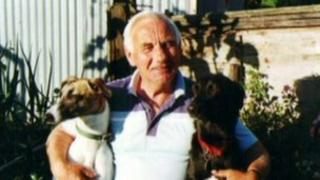 A Shropshire NHS trust has changed its policies after a man died because medical staff failed to notice his throat had been torn during surgery.
Dennis Edwards, 73, from Shrewsbury, died in September 2010 after having an operation to remove gallstones at Shrewsbury Hospital the previous month.
He was given food and drink following the procedure despite notes advising staff that he should not be fed.
Shrewsbury and Telford Hospital NHS Trust admitted failures over care.
It said it had made "many improvements" since Mr Edwards' death.
Irwin Mitchell solicitors, acting for Mr Edwards' family, said the trust had now introduced a "nil-by-mouth policy, where damage to the oesophagus is suspected" during endoscopic procedures.
'Death not in vain'
The surgeon attempting to remove the father-of-two's gallstones stopped halfway through the operation because he believed he had torn his throat.
X-rays came back clear and Mr Edwards, from Bayston Hill, was subsequently transferred to Princess Royal Hospital, Telford, for aftercare.
Despite a nil-by-mouth recommendation, Mr Edwards was given food and drink which leaked into his chest.
After his condition deteriorated, further scans were ordered which highlighted the damage.
He was taken to Birmingham's Queen Elizabeth Hospital for emergency surgery but he did not recover and died on 21 September.
A narrative verdict for his death was recorded at a coroner's inquest in May 2011.
Mr Edwards' wife Jean, 68, said: "My family and I feel that if more care was taken and information passed more easily from one hospital to another, Dennis's condition would have been diagnosed earlier, giving him a much better chance of survival.
"We do now finally have some peace of mind that his death wasn't in vain due to the trust implementing new policies to stop the same mistakes being made again.
"It won't bring him back but it's some relief to know lessons have been learnt and other patients are now less at risk."
Peter Herring, the trust's chief executive, said: "This was a tragic case where the trust clearly failed to provide the high standard of care we aspire to deliver and Mr Edwards and his family would have expected.
"Since Mr Edwards' death in 2010 many improvements have been made to improve the quality and safety of the services we provide, such as those regarding patients undergoing endoscopic procedures.
"Once again I would like to apologise on behalf of the trust and offer our deepest sympathies to the family."
The trust also agreed a settlement with the family.