Doseley quarry homes plan recommended for approval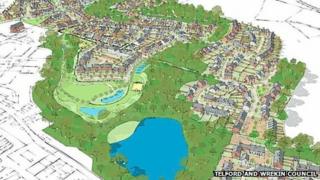 Plans to build 460 houses on a former quarry in Shropshire have been recommended for approval, despite objections from local residents.
David Wilson homes and Breedon properties have submitted the plans for the former Doseley Works in Telford.
The site is partly used by concrete products manufacturer FP McCann, which Telford and Wrekin council said was winding up operations.
A decision will made on the plans by the council on Wednesday.
A council report showed it received more than 40 letters of objection from people who were concerned about a number of issues including increased traffic and the effect on wildlife.
It said that the developers would pay more than £700,000 towards schools and leisure facilities as part of the plans.