Clee Hill Partnership plans 'substantial' lottery bid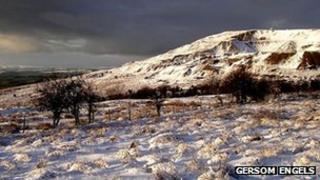 A group looking after a Shropshire beauty spot is asking the public to back a "substantial bid" to the Heritage Lottery Fund.
The Clee Hill Partnership was formed in 2011 to secure the area's "sustainable natural, cultural and economic future".
Clee Hill and its common has a Bronze Age hill fort and the remains of pre-Industrial coal and limestone mines.
Chair Henry Chance said: "Funding would help to conserve and enhance the most at risk heritage sites."
The partnership includes the Commoner's Association, Titterstone Clee Heritage Trust, the Clee Hill Wardens, and several wildlife groups.
Mr Chance said: "We are seeking people's views about the ideas which have already been put forward for the project bid and encouraging more people to get involved by filling in the online survey."